Pack your car the night before and leave straight from work! If you're from Chicago, Illinois, Michigan, Indiana, or Ohio then we're not too far from you! We highly suggest taking the afternoon of July 29th off and arriving at camp early, we're going to pack a lot of super fun, exciting, awesome stuff in!
Check in starts at 2:00pm and goes till 9:00pm.
Low ropes course. As soon as you arrive you will be placed with 9 other campers and a Camp Forever Fun begins! A counselor will take you through a series of ice breakers, team building and trust games. Did your team get done with some spare time before dinner? Join in on the volleyball game, the circle of new friends games, or face painting so you look awesome for tonight!
7:00pm – Dinner. Just arriving at camp? That's ok, we'll make sure you meet everyone and have an awesome time! You can eat, as soon as you can name everyone at your table and one cool fact about them!
8:30 pm – Moonlight Beer Hike. Along with ten new friends (yes couples may stay together) a Camp Forever Fun councilor will lead you through the camp's grounds on a two mile hike, stopping every ten minutes or so to sample a new variety of Short's beer of course. Will there be glow sticks involved? Yeppers.
10:00pm – Light the campfires! Roast s'mores, tell stories, and enjoy a craft beer or a glass of wine.
SATURDAY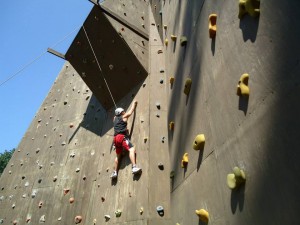 8:00am – Morning yoga with Laura
9:00am – Breakfast. Shovel it in kids; we're going to burn some calories today!
10:00am – Activity period one. Climbing wall? Archery? Horseback riding? High ropes course? Arts and crafts? Dodge ball? Canoe and swim at the waterfront? How about volleyball, soccer, or basketball? Did we mention the awesome zip line? Maybe you'll sign up for one of the other numerous activities at camp? It's all up to you!
11:00am – Activity period two.
12:30pm – Lunch. You're gonna need it!
1:30pm – Rest hour. Because naps are totally for adults!
2:30pm – Activity period three.
3:30pm – Activity period four.
4:30pm – Free time. The water front is open for swimming. Take a hike with your new friends. Sit on the back deck and enjoy a glass of wine or a good beer while we watch the sunset. Read your book in peace. Take out a canoe.
7:00pm – Dinner. Is camp food good for you? Probably not, but the six to ten hours of exercise you'll get everyday certainly is!
8:30pm – Don't you have an awesome dance party to get ready for?
10:00pm – Suds, foam, and bubbles dance party!!! That's right, we're going to get suds all over the field, let the DJ loose, and dance like nobody's business!
Midnight – will there be a Midnight Shrinkage Club this year?
SUNDAY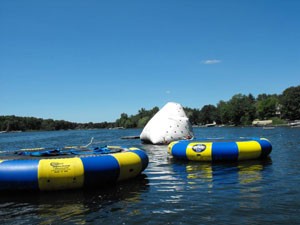 8:00am – Optional morning yoga. Optional morning hike.
9:00am – Pajama breakfast, and yes, there will be plenty of coffee. Wear your most awesome pajamas!
10:00am – All camp color war!!! Before you arrive at camp you will be assigned a color, this afternoon you will wear blue, red, green, or yellow. Find your tribe and huddle up for protection, this is war! Giant canoe races, all camp relay, tug of war… Some people say it's all in fun, don't you believe it! Paint your face and get serious – we're keeping score!!!
1:00pm – Lunch and packing
2:00 pm – Apache Relay Race: the amazing conclusion to color war and an instant Camp Forever Fun classic!
3:00pm – Waterfront. We'll bring out the speakers and play some good music while we swim, canoe, sunbath, and play volleyball.
5:00pm – you'll drive out of camp. Depending on where you live you'll be home around 8:00pm, enough time to take a shower and get a good night's sleep before returning to your regular life tomorrow.
We are the Midwest's premier adult summer camp! If you are from Michigan, Ohio, Indiana, or Chicago Illinois, you need to be here!